A neuroma is a (usually) benign swelling or thickening of the nerve. Neuromas often occur in the feet between the metatarsal bones. These bones are at the front of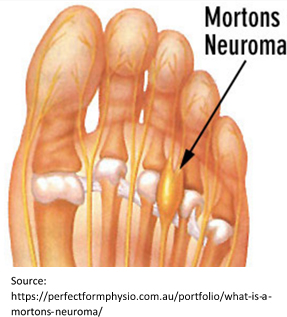 your foot and sit just behind your toes.
The cause of a neuroma between the metatarsals is usually due to compression or irritation. A person with a flexible forefoot may be more susceptible to neuroma development as the bones move further and more easily so irritating the nerve and other nearby structures. For this reason, neuromas may initially coexist with bursitis.
A neuroma has a different name depending which metatarsal bones it forms between. The most common is Morton's Neuroma which occurs between the third and fourth metatarsals.
Neuromas tend to cause pain or discomfort in the ball of the foot which may radiate into the toes. Neuroma discomfort may be felt as: stabbing, shooting or burning pain; numbness or pins and needles or feeling like your standing on rock or sock fold.
A neuroma can't be reversed but the symptoms can often be well managed.
Management by your podiatrist may include:
Referral for a diagnostic ultrasound to confirm the diagnosis and to assess the thickness of the nerve.
Dome shaped padding may be placed in your shoe to help spread out your metatarsals to prevent further irritation of the nerve.
Orthotics to help position your foot better for more optimal functioning (usually so that the foot is less rolled in) so that the front of your foot doesn't have to move as much (especially if it is very flexible). This helps reduce irritation of the nerve.
Footwear advise. Shoes that are wider at the front by the toes will cause less pain. Shoes with higher heels will likely cause you more pain as you then put more pressure on the front of your foot.
In some persistent cases, the podiatrist may suggest a cortisone injection, however, this will be done in conjunction with the other treatment techniques.
What you can do at home:
Place ice or an ice pack in a towel and ice the front of your foot (from the top and the bottom) to help settle any surrounding inflammation and manage the pain. Do this for 5-10 minutes at a time and be careful of slipping afterwards when you walk.
Do your best to follow the advice of your podiatrist. Wear shoes that are wide enough for your foot at the front, with a low heel.